Article in FASHION STUDIO MAGAZINE
WEDNESDAY, FEBRUARY 14, 2018 - DESIGN INSPIRATION - By Eva Fydrych
 http://www.fashionstudiomagazine.com/2018/02/design-inspiration.html
How to Bring the Beach Vibe
to your home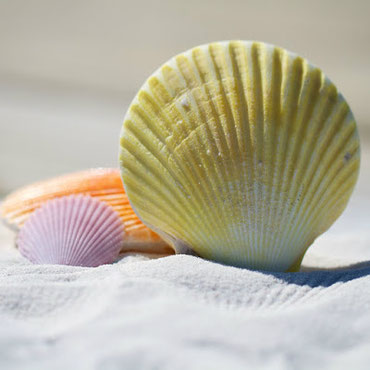 Photo courtesy of Pixabay
If you are anything like me, you probably miss summertime all year round. Unfortunately, for those of us living in North America or Europe, February is still far away from the sunny, warm weather.
So what can you do if you don't have time (or money) for another exotic getaway, but you would like to bring some summer vibes into your home? Read on!
Design Elements
As even the most busy of us still spend a lot of time at home, it's important to surround yourself with the things you love and design a space which will make you feel good and truly relaxed.
While having your favourite vacation photos framed on the wall may be an interesting idea, it takes a little more to create the desired summer atmosphere.
First of all, make a list of everything that reminds you of being on the beach and makes you feel happy. It can be anything from a decorative wooden basket or a swinging hammock to a simple set of seashells (have a look at this gorgeous wind chime by DolphinArt Italy) or a colourful cocktail glass. Take your time and don't rush the process.
Once you identify all the essential elements, decide which ones can be incorporated into your living space and which ones are better left where they belong. If you need some help or more inspiration, have a look at our Pinterest mood board.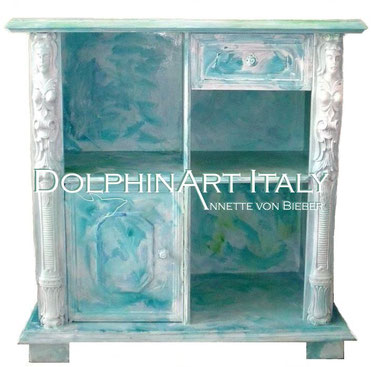 Photo courtesy of Annette von Bieber
The Magic of Colours
Second step is creating the right colour palette and making sure that all the main pieces fit into that scheme. Later on you may spice it up with some bright additions, but it's better to start with the basics if you want to avoid being lost in the whole process and having to deal with a lot of chaos.
Start with three main colours such as white, beige, and turquoise / aquamarine. Decide on the intensity of the colours – would you prefer a calm, washed-out colour palette or are you going for bolder and more intensive shades such as azure or royal blue?
DID YOU NOW?
"The colour blue has been found by an overwhelming amount of people to be associated with feelings of calm and peace," says Richard Shuster, PsyD, clinical psychologist and host of The Daily Helping podcast. "Staring at the ocean actually changes our brain waves' frequency and puts us into a mild meditative state." (Source: NBC News)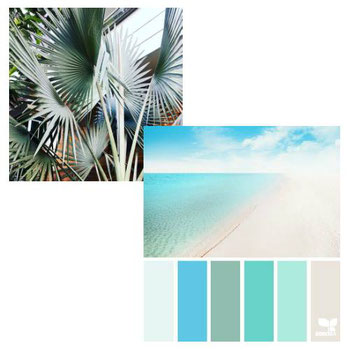 Photo by Eva Fydrych / Colour palette by Design Seeds
"I need the sea because it teaches me…" - Pablo Neruda
Details, Details, Details!
Third step is thinking about the fabrics. In high-end interiors, good textile materials make all the difference – they underline the elegance and sophistication. They can also easily create or change the whole mood if you know how to use them properly.
As various textile products such as carpets, rugs, curtains, cushions or bed linens can be easily replaced, don't be afraid to experiment with some additional colours (such as pink, red or yellow) to make sure that the whole look is not too blend and boring. Also remember to add a touch of your own style and personality – after all you are designing your very personal space and it's important to make it as unique and irreplaceable as possible. Have fun!
SUMMERTIME patchwork pillow by DolphinArt Italy
About DolphinArt Italy
Created by Annette von Bieber, DolphinArt Italy is a very special place for all things related to the ocean, dolphins, and beach living.
"After swimming the first time with FREE Dolphins around the Bahamas (Bimini) my whole life changed," says Annette. "When I still lived in Germany, my apartment became a small "Beach House". I needed to have all these little things around me, remembering of the ocean, to "overcome" my yearning... Now, living close to the sea, where I can also see it from my windows, I still need this Lifestyle… it is my Essence, my Being."
Annette's dream is to further develop her small business and to share her passion with other people, creating more and more products for her online boutique. Her project supports various vetted organisations that are devoted to protect our oceans and their inhabitants – especially the dolphins. For more information, please visit: about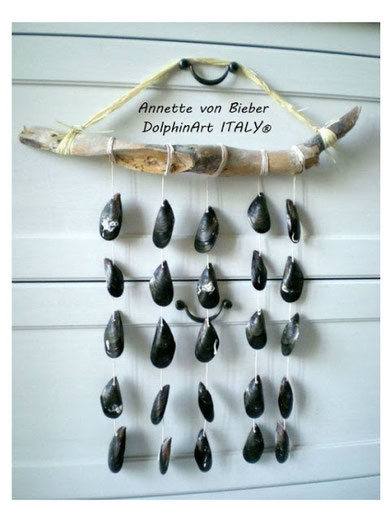 Wind chime with original common mussels from Adriatic Sea (Photo courtesy of DolphinArt Italy)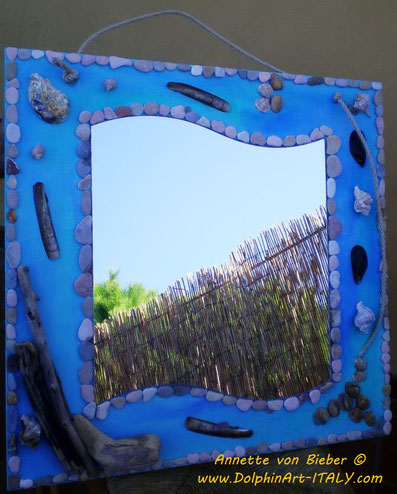 Beach Cottage Mirror by DolphinArt Italy
---